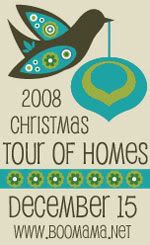 Here is my Christmas Home Tour:
Our first stop of course is the outside of our home, we didn't do too much outside this year solely because Brandon wouldn't let me, Mr. Grinch! Jk but he really wouldn't let me do lights!

Next stop is the living room: The Christmas tree that we got last year as our first Christmas tree is displayed nicely in the center of the wall to easily be seen out the dining room window!
Baby's 1st Christmas 2008 Ornament for Lil man of course
To the right of my tree we have the dining area which consist of a centerpiece with my beautiful crystal vase I received as a wedding gift and my Christmas china that has never been used!
To the left of the tree is my mantle which is hard to see but is decorated with greenery, my candlesticks I received as wedding gifts, my Nativity scene, stockings, and singing Christmas bear that Aiden loves
The only reason for to celebrate Christmas is or dear Saviour's birth, so of course a nativity scene is a must. Last year I got the Willow Tree nativity set and will buy a piece a year.
Next stop my favorite place in the house: the Kitchen which is decorated with Lil Man's Christmas tree. We didn't put it in his room because I felt it would be seen more in the kitchen!
His tree is decorated with baseball, basketball, football, and golf ornaments and the topper is my running medals! HA
Our Christmas cards are displayed on the windown beside Aiden's tree!
Final 2 stops are Aiden's bathroom which has his golfing Santa. I have decided this year to buy a sports Santa every year for Aiden and Brandon's favorite sport. This year is golf, next year I'm sure will be golf, and the next, next.....
Finally guest are welcomed into my room by this fun, whimsical tree.